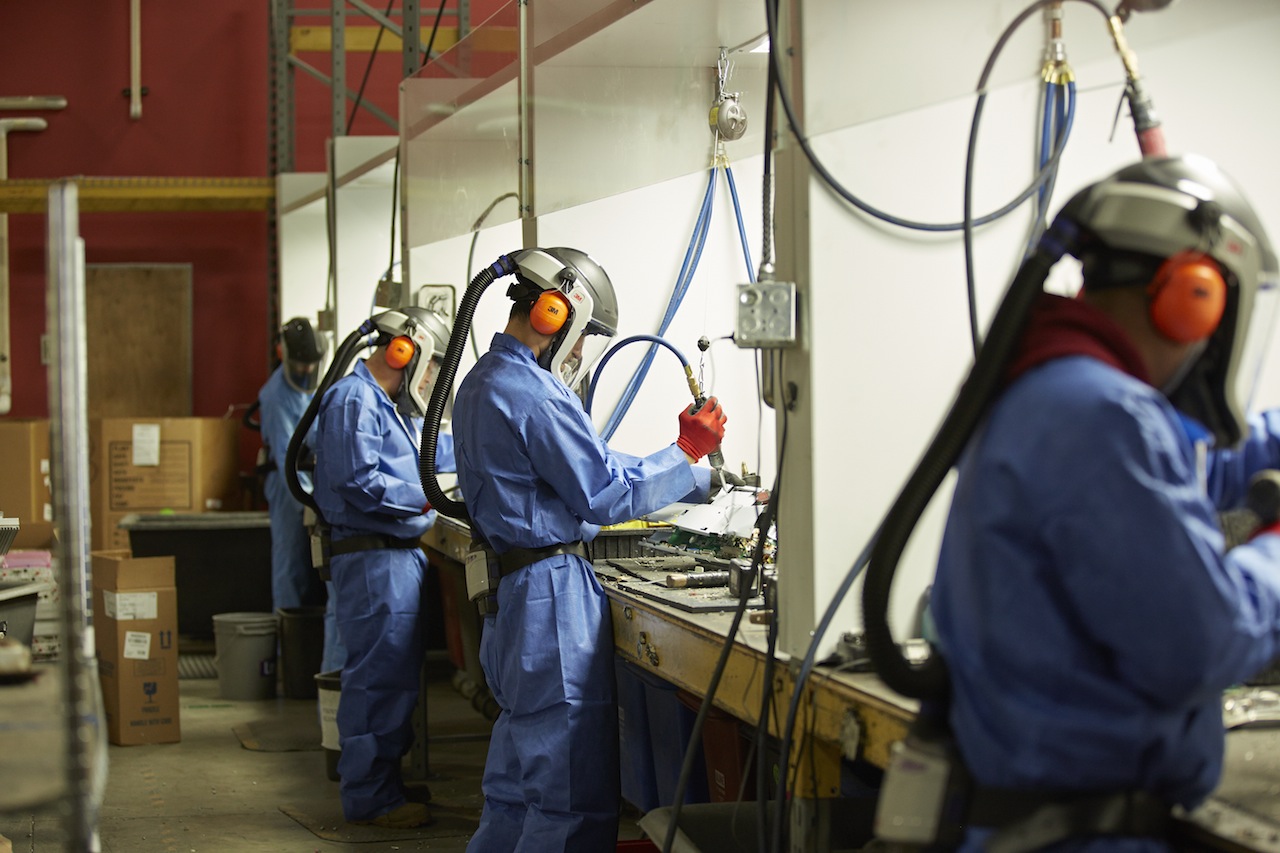 Certifications
We voluntarily go above and beyond all required standards — for the protection of our employees, the community & the environment as a whole, and take pride in having created one of the safest, most environmentally friendly, certified recycling centers possible in the industry.
We are proud to maintain the R2 Certification, which requires strict adherence to responsible recycling practices. We also maintain management systems that are ISO 9001, ISO 14001 and ISO 45001 certified. A third party ANAB accredited organization audits our managements systems. Our certified services offer risk mitigation to the industries we serve. For customers decommissioning USML items, R2 Disassembly is ITAR Registered and fully meets the destruction of these articles on your behalf.
As technology continues to evolve & expand at a rapid pace, so does our facility — and at R2 Disassembly we will continue to integrate state-of-the-art sustainable processes and technologies to keep us at the forefront of our industry.
Quality, Environmental, Health and Safety Policy
We are committed to providing high quality recycling, remanufacturing, testing and resale solutions for high-end end-of-life electronics and other reusable equipment to capture maximum residual value in a manner which:
Provides a high level of customer confidence and satisfaction.
Protects the environment, including prevention of pollution.
Control occupational health and safety risks using the hierarchy of controls to eliminate hazards and reduce occupational health and safety risks.
Maintains health and safety of all staff as a top priority and commits to providing a safe and healthy work environment for the prevention of injury and ill health.
Commits to actively seeking consultation and participation of staff at all levels of the organization in matters of quality, environmental, health and safety.
Commits to improving quality, environmental, and health & safety performance.
Manages used and end of life electronic equipment based on a hierarchy of reuse, refurbishment, recovery, and disposal including onsite and downstream materials management throughout the recycling chain.
Manages Focus Materials throughout the recycling chain to final disposition with due diligence to protect employee health and our environment.
Complies with all legal and other requirements.
We are committed to continual improvement achieved through monitoring of objectives and rigorous evaluation of our management system.

We are committed to communicating and reinforcing this policy throughout our company, as well as, to our customers, our suppliers and to the public.
Get Started